Publication:
The law applicable to International Mediation Contracts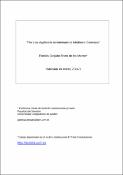 Advisors (or tutors)
Editors
Abstract
Mediation entails the provision of the services of a professional, the mediator, who holds a legal relationship with the disputants: the mediation contract. Where there are transnational elements in the mediation process, the contract is of an international character. In such situation, the Laws of the diverse States involved could claim to be applicable to the same contract. The determination of the (only) Law applicable is of upmost interest in spite of the high degree of standardization of the obligations of both parties in the mediation contract. First, for such lex contractus establishes the limits of the freedom of the contracting parties. And second, for there are important matters that the parties do not usually tackle within the wording of mediation contracts and that model rules and standards do not either regulate. The present paper aims at illustrating about the functioning of the present and the future instruments of Private International Law that solve the conflict-of-laws issue: Rome Convention and Rome I Regulation.
La mediación implica una prestación de servicios por parte de un profesional, el mediador, que tiene una relación jurídica con las partes en disputa: el contrato de mediación. Cuando concurren elementos transnacionales en el proceso de mediación, el contrato es de carácter internacional. En tal situación, las leyes de los diversos Estados con los que la situación está involucrada podían pretender ser aplicables al mismo contrato. La determinación de la (única) ley aplicable es de máximo interés a pesar del alto grado de estandarización de las obligaciones de ambas partes en el contrato de mediación. En primer lugar, porque la contractus lex establece los límites de la libertad de las partes contratantes. Y en segundo término, porque hay asuntos importantes que las partes no abordan generalmente dentro de la redacción de los contratos de mediación y que las reglas y normas modelo no suelen regular. El presente artículo tiene como objetivo ilustrar sobre el funcionamiento del presente y los futuros instrumentos de Derecho Internacional Privado que resuelven el problema de conflicto de leyes: Convenio de Roma y Reglamento Roma I.
Collections