Publication:
Electron-impact excitation of the (4d(10)5s) S-2(1/2)-> (4d(9)5s(2)) D-2(3/2) and (4d(10)6s) S-2(1/2) ->(4d(10)6s) 2S(1/ 2) transitions in silver: Experiment and theory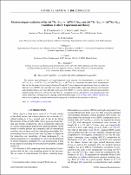 Advisors (or tutors)
Editors
Abstract
We present angle-differential and angle-integrated cross sections for electron-impact excitation of the (4d(10)5s) S-2(1/ 2) -> (4d(9)5s(2)) D-2(3/ 2) and (4d(10)5s) S-2(1/ 2) ->(4d(10)6s) S-2(1/ 2) transitions in atomic silver. Experimental data for four incident electron energies between 10 and 60 eV are compared with predictions from our relativistic distorted wave (RDW) and nonrelativistic atomic optical potential models. Agreement between our measured and calculated data is only fair, although in the case of the RDW it is seen to improve with increasing incident electron energy. However, only for the (4d(10)6s) S-2(1/2) excitation process, agreement of our measured data with earlier relativistic convergent close coupling results from McNamara et al. [J. Phys. B 51, 085203 (2018)] was, with a few exceptions, typically observed to be very good, to within the uncertainties on the data.
Description
©2021 American Physical Society. This work was financially supported, in part, by the Australian Research Council (Project No. DP180101655), the Institute of Physics Belgrade through the Ministry of Education, Science and Technological Development (MESTD) of Serbia, and the Spanish Ministerio de Ciencia e Innovación -MICNN (Project No. PID2019-104727RB-C21) and CSIC (Project No. LINKA 20085). We thank Dr. L. Campbell for his help with some aspects of this paper, and Professor D. V. Fursa for providing us with tables of his RCCC(80) results. R.P.M. acknowledges very valuable discussions with Professor A. D. Stauffer in the early stages of the development of the innershell RDW method.
Collections