Publication:
Importance of fermion loops in W+W- elastic scattering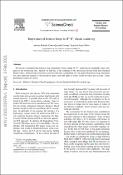 Advisors (or tutors)
Editors
Abstract
We test the assumption that fermion-loop corrections to high energy W+W- scattering are negligible when compared to the boson-loop ones. Indeed, we find that, if the couplings of the interactions deviate from their Standard Model values, fermion-loop corrections can in fact become as important or even greater than boson-loop corrections for some particular regions of the parameter space, and both types of loops should be taken into account. Some preliminary results are shown.
Description
© 2021 Elsevier International Conference on Quantum Chromodynamics (QCD)(23. 2020. Montpellier, Francia) We would like to thank our collaborators A. Castillo, R. L. Delgado and F. Llanes-Estrada, who participated in the earlier parts of the research presented in this note [12] . This research is partly supported by the Ministerio de Ciencia e Inovacion under research grants FPA2016-75654-C2-1-P and PID2019-108655GB-I00; by the EU STRONG-2020 project under the program H2020-INFRAIA-2018-1 [grantagreement no. 824093] ; and by the STSM Grant from COST Action CA16108. C.Quezada-Calonge has been funded by the MINECO (Spain) predoctoral grant BES-2017-082408.
Collections