Publication:
La Carta internacional de los museos memoriales de IC-MEMO: una guía ética para la musealización de patrimonios disonantes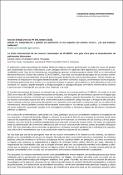 Authors
Advisors (or tutors)
Editors
Publisher
Junta de Andalucía: Instituto Andaluz del Patrimonio Histórico
Abstract
El patrimonio cultural procedente de hechos históricos trágicos requiere profesionales de todas las áreas de gestión que comprendan sus retos y dificultades y que consigan además un equilibrio entre significancia, conservación y accesibilidad social. Una de las herramientas museológicas puestas en funcionamiento desde 2011 es la Carta internacional de Principios de los museos memoriales de la red de ICOM IC-MEMO, cuyas recomendaciones sirven de guía ética para la gestión de patrimonios disonantes. Dichos museos generalmente se emplazan en los lugares históricos donde ocurrieron los hechos trágicos, convirtiéndose dichos espacios en elemento patrimonial en si mismo, y en los que los museos se apoyan para conducir su tarea educativa y cívica a la sociedad. Así, espacio, legado intangible y el legado tangible se salvaguardan para defender la memoria de las víctimas y procurar que el mensaje de paz sea un valor inherente a la visita.
Cultural heritage originating from tragic historical events requires professionals from all management areas who understand its challenges and difficulties and who also achieve a balance between significance, conservation and social accessibility. One of the museological tools put into operation since 2011 is the International Charter of Principles for memorial museums of the ICOM IC-MEMO network, whose recommendations serve as an ethical guide for the management of dissonant heritage. These museums are generally located in the historical places where the tragic events occurred, turning these spaces into a heritage element in themselves, and in which the museums rely to conduct their educational and civic task to society. Thus, space, intangible legacy and tangible legacy are safeguarded to defend the memory of the victims and ensure that the message of peace is an inherent value of the visit.
Citation
• Arrieta I. (ed) (2016) Lugares de memoria traumática. Representaciones museográficas de conflictos políticos y armados. Bilbao:UPV • Hernández, F.X. (2011) Conflictos contemporáneos, estrategias de musealización crítica. Revista Museo y Territorio, n.º 4. Málaga: Área de Cultura del Ayuntamiento, pp. 79-86 • Galán-Pérez, A. y Vieira, E (2020) Museos memoriales, museos diferentes: buscando claves para su conservación. Diferents. Revista De Museus, (5), pp. 36-55. Disponible en: https://doi.org/10.6035/Diferents.2020.5.3 [Consulta: 17/11/2021] • IC-MEMO [International Committee of Memorial Museums in Remembrance of the Victims of Public Crimes] (2011) Internacional Memorial Museum Charter. Disponible en: http://icmemo.mini.icom.museum/wp-content/uploads/sites/17/2019/01/IC_MEMO_charter. pdf [Consulta: 17/11/2021] • Maceira Ochoa, L. (2012) Museo, memoria y derechos humanos: itinerarios para su visita. Bilbao: Universidad de Deusto. Disponible en: http://www.deusto-publicaciones.es/deusto/pdfs/cuadernosdcho/cuadernosdcho68.pdf [Consulta: 17/11/2021] • Navarro, O. (2011) Ética, museos e inclusión: un enfoque crítico. Revista Museo y Territorio, n.º 4. Área de Cultura del Ayuntamiento de Málaga, pp. 49-59 • Ortiz, C. y Sánzhez-Carretero, C. (2008) Archivos etnográficos, memoria y nuevos patrimonios: el caso del archivo del duelo. En Pereiro, X., Prado, S. y Takenaka, H. (coord.) Patrimonios culturales: Educación e interpretación. Cruzando límites y produciendo alternativas. País Vasco: Ankulegi pp. 155-170 • Velázquez, C. (2011) El museo memorial: un nuevo espécimen entre los museos de historia. Intervención (México DF), México,vol. 2, n.º 3, pp. 26-31. Disponible en: http://www.scielo.org.mx/scielo.php?script=sci_arttext&pid=S2007-249X2011000100005&lng= es&nrm=iso&tlng=es [Consulta: 17/11/2021] • Witker Barra, R. (2016) Museos de la vergüenza. El uso de la memoria política como patrimonio cultural. Illapa Mana Tukukuq,(13), pp. 88-97. Disponible en: https://doi.org/10.31381/illapa.v0i13.1901 [Consulta: 17/11/2021]
Collections