Publication:
Imitation and Distinction. History of Two Theoretical Concepts in Social Psychology: The legacy of Simmel, Tarde and Bourdieu.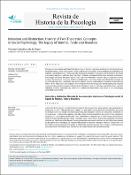 Authors
Advisors (or tutors)
Editors
Publisher
Universitat de València: Departamento de Psicología Básica
Abstract
The Annales Movement underlined the importance of the non-conscious mechanisms which perpetuate social phenomena. Such mechanisms can be understood as the object of microanalysis by multiple social sciences. Concerning Social Psychology, the theoretical concepts of imitation and distinction are found at the same microlevel and have been the object of such a microanalysis by three eminent sociologists. The thought of George Simmel, Gabriel Tarde and Pierre Bourdieu on these topics is exposed in order to show the historical relevance of their contributions concerning these microlevel key-concepts of Social Psychology. As a conclusion, this article aims to provide a rationale for innovative researchers to reflect on the boundaries that separate their discipline from Sociology; the interdisciplinarity required to address theoretical concepts underlying the discipline (such as imitation and distinction); and the relevance of these contemporary classics to understand phenomena that occur in an increasingly networked social world.
La Escuela de los Anales subrayó la importancia de los mecanismos inconscientes que perpetúan los fenómenos sociales. Tales mecanismos pueden ser entendidos como objeto de microanálisis por parte de múltiples ciencias sociales. En Psicología Social, los conceptos teóricos de imitación y distinción se encuentran en el mismo micronivel y han sido objeto de tal microanálisis por parte de tres eminentes sociólogos. El pensamiento de Simmel, Tarde y Bourdieu es expuesto con el fin de mostrar la relevancia histórica de sus aportes entorno a estos conceptos clave a nivel micro. A modo de conclusión, el artículo pretende ser motivo de reflexión para investigadores innovadores en relación con: los límites que separan su disciplina de la Sociología; la interdisciplinariedad al abordar conceptos teóricos subyacentes a la disciplina (como imitación y distinción); y, finalmente, la pertinencia de estos clásicos contemporáneos para comprender fenómenos que suceden en un mundo social cada vez más reticular.
Collections