Publication:
<e-Tutor> GE: <e-Tutor> Graphical Editor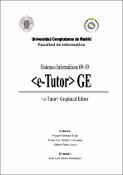 Advisors (or tutors)
Editors
Abstract
En este proyecto de Sistemas Informáticos construimos una herramienta sencilla, que consiste en un editor gráfico para <e-Tutor> y facilita la creación de tutoriales sin necesidad de tener conocimientos de lenguajes de programación. El editor permite asociar una serie de figuras que, procesadas secuencialmente, generarán un tutorial socrático. Este tipo de tutoriales pueden ser utilizados en multitud de campos, no sólo el informático, siempre dentro de un marco educativo. El desarrollo de <e-Tutor> GE se apoya en diferentes tecnologías Eclipse, que permiten la construcción de una herramienta gráfica a partir de un modelo de datos. [ABSTRACT] In This Project we have built a simple tool which consists on a graphical editor for <e-Tutor> that makes it easier to create tutorials without any knowledge in programming languages. The editor permits authors to associate certain figures, that sequentially processed, will generate a socratic tutorial. This kind of tutorials can be used for various matters, not only computing, but always within an educational framework. The development of <e-Tutor> GE is supported by some Eclipse technologies, which allow building a graphical tool from a data model.
Description
Proyecto de Sistemas Informáticos (Facultad de Informática, Curso 2009-2010)
Collections