Publication:
Intensification of oxygen-dependent biotransformations catalyzed by immobilized enzymes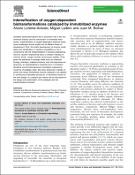 Advisors (or tutors)
Editors
Abstract
Oxidative biotransformations find a prominent role in the fine chemical industry and the valorization of renewable feedstocks. Implementation of oxygen-dependent reactions faces some challenges across scales and at different levels of development. First, the fruitful development of enzyme candidates and identification of reaction possibilities is not in consonance with the implementation in process engineering. Second, reaction engineering faces a complex interplay of reaction kinetic, oxygen transfer and process stability. Third, given the advances in synergic fields such as molecular biology, chemistry, material sciences, and (micro)process engineering, an interdisciplinary assembly from a consistent discipline around heterogeneous biocatalyst engineering would be of strategic value. We show advances in design of active and robust immobilized enzyme catalysts to be applied in (continuous) intensified processes. A framework based on the joint design of a catalyst and reactor will be discussed for the design and optimization of the catalysts and biotransformations involved.
Description
CRUE-CSIC (Acuerdos Transformativos 2021)
Collections