Publication:
Classical and Quantum f(R) Cosmology: The Big Rip, the Little Rip and the Little Sibling of the Big Rip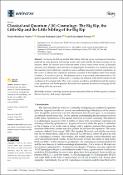 Advisors (or tutors)
Editors
Abstract
The big rip, the little rip and the little sibling of the big rip are cosmological doomsdays predicted by some phantom dark-energy models that could describe the future evolution of our universe. When the universe evolves towards either of these future cosmic events, all bounded structures and, ultimately, space–time itself are ripped apart. Nevertheless, it is commonly believed that quantum gravity effects may smooth or even avoid these classically predicted singularities. In this review, we discuss the classical and quantum occurrence of these riplike events in the scheme of metric f(R) theories of gravity. The quantum analysis is performed in the framework of f(R) quantum geometrodynamics. In this context, we analyze the fulfilment of the DeWitt criterion for the avoidance of these singular fates. This review contains as well new unpublished work (the analysis of the equation of state for the phantom fluid and a new quantum treatment of the big rip and the little sibling of the big rip events).
Collections