Publication:
New sacculonotic Oripodoidea (Acari: Oribatida) from Peru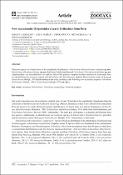 Advisors (or tutors)
Editors
Abstract
Three new species of oribatid mites of the superfamily Oripodoidea—Scheloribates (Bischeloribates) eduardoi sp. nov., Scheloribates (Hemileius) dianae sp. nov. (both from Scheloribatidae) and Peloribates (Peloribates) elisabethae sp. nov. (Haplozetidae)—are described from soil and leaf litter of the primary evergreen lowland rainforest in Amazonian Peru. An identification key to known species of Scheloribates (Bischeloribates) is updated. The taxonomic status of the genus Tentaculozetes Balogh, 1970 (Haplozetidae) is discussed, resulting in the following new taxonomic proposal: Peloribates (Peloribates) Berlese, 1908 (=Tentaculozetes Balogh, 1970 syn. nov.).
Collections