Publication:
Two-meson cloud contribution to the baryon antidecuplet self-energy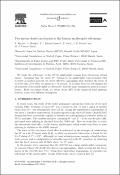 Advisors (or tutors)
Editors
Abstract
We study the self-energy of the SU(3) antidecuplet coming from two-meson virtual clouds. Assuming that the exotic Theta(+) belongs to an antidecuplet representation with (1710) as nucleon partner, we derive effective Lagrangians that describe the decay of N(1710) into N pi pi with two pions in s- or p-wave. It is found that the self-energies for all members of the antidecuplet are attractive, and the larger strangeness particle is more bound. From two meson cloud, we obtain about 20% of the empirical mass splitting between states with different strangeness.
Description
© 2005 Elsevier B.V. All rights reserved. International Conference on Structure of Baryons (10.2004. Palaiseau, Francia)
Citation
1. LEPS, T. Nakano et al., Phys. Rev. Lett. 91 (2003) 012002. 2. NA49, C. Alt et al., Phys. Rev. Lett. 92 (2004) 042003. 3. P. Bicudo and G. M. Marques, Phys. Rev. D69 (2004) 011503. 4. T. Kishimoto and T. Sato, hep-ex/0312003. 5. F. J. Llanes-Estrada, E. Oset, and V. Mateu, Phys. Rev. C69 (2004) 055203. 6. P. Bicudo, hep-ph/0403146. 7. A. Hosaka, T. Hyodo, F.J. Llanes-Estrada, E. Oset, J. R. Peláez, and M. J. Vicente Vacas, hep-ph/0411311. 8. Particle Data Group, S. Eidelman et al., Phys. Lett. B592 (2004) 1
Collections