Publication:
Función y alcance de la lex mercatoria en la conformidad material de las mercancías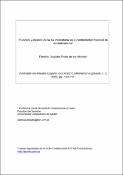 Advisors (or tutors)
Editors
Abstract
En el marco de la compraventa internacional la lex mercatoria desempeña una función integradora, interpretativa y actualizadora de las normas uniformes (CV) a través de la autonomía de la voluntad de los contratantes; y al margen de ésta, además, sirve a la interpretación uniforme e internacional de tales normas. En el contrato de inspección, vehículo jurídico de la intervención de terceros especializados en el examen de las mercancías objeto de la compraventa (considerada en sí misma un uso del comercio), su principal función es conformadora, pues dicho contrato está regulado fundamentalmente por condiciones generales estandarizadas que suplen la inexistencia de Derecho uniforme. En este contexto, las normas estatales cumplen una función supletiva de las normas materiales uniformes y proporcionan los límites de la autonomía de la voluntad de las partes. Ciertamente, cuando las normas materiales uniformes son privadas, como en el contrato de inspección, el alcance del Derecho estatal es mayor, pues la propia validez de esas normas, y su correcta inclusión en el contrato dependen de lo que al respecto establezca la lex contractus. Esta intervención, que puede obstaculizar un tratamiento del contrato adecuado a su internacionalidad, puede reducirse al máximo si se refuerza la función de la lex mercatoria a través de la inclusión en el contrato de los Principios UNIDROIT.
The so called lex mercatoria accomplishes different functions and is subject to diverse limits depending on the existence of uniform rules applicable to a given international commercial contract. Thus, by way of party autonomy it serves the integration, interpretation and actualization of uniform rules (CISG) applicable to international sale of goods contracts, and, notwithstanding party autonomy, it offers a uniform and international interpretation of those rules. In the frame of a contract of goods inspection, which is celebrated to regulate the inspection of the goods by a third party -conceived as an international usage in itself, its main function is a conforming one, since the lack of specific rules applicable to the contract is settled by means of the inclusion of standardized general conditions. In this context, state Law fulfils a completive function and establishes the limits of party autonomy. Certainly, national rules do have a greater extent where uniform rules are of a private nature (i.e. in the contract of goods inspection) because a state lex contractus is meant to regulate both the validity of those private rules and their effective inclusion in the inspection contract. Such an application of national rules, which may hinder a truly international treatment of the contract, is to be avoided through the insertion of UNIDROIT Principles.
Collections