Publication:
Corredores de desgarre cenozoicos en la Península Ibérica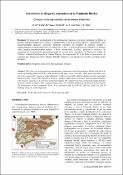 Files
Advisors (or tutors)
Editors
Publisher
Sociedad Geológica de España.
Abstract
El proceso de acomodación de la deformación cenozoica (en inicio, pirenaica) en Iberia se produjo mediante pliegues por buckling y cabalgamientos E-O en la corteza superior. Lateralmente, estas macroestructuras aparecen conectadas mediante corredores de desgarre de anchura variable y desplazamientos en fallas individuales de menos de 10 Km. La nucleación de estos corredores se produce sobre antiguas discontinuidades variscas y fallas extensionales, triásicas, jurásicas o cretácicas. Se comparan las características macroestructurales de tres de estos corredores: El Sistema de Fallas de Vilariça, la Rama Castellana de la Cadena Ibérica y la terminación SE de la Falla de Ventaniella. Se concluye que, buena parte de los pliegues NO-SE, "ibéricos", son pliegues por bending a lo largo de los desgarres.
The Cenozoic deformation accommodation (pyreneean at the beginning) in Iberia took place by means of buckling folds and E-W trendin thrusts in the upper crust. Laterally, these macrostructures turn out to be connected by means of strike-slip fault corridors of variable width by displacement in individual faults less than 10 km. The nucleation of these corridors takes place on former variscan discontinuities and Triassic, Jurassic or Cretaceous extensional faults. We compare the macrostructural characteristics of three of these corridors: The Vilariça Fault System, the Castilian Branch of the Iberian Chain and the SE termination of the Ventaniella Fault. It is concluded that the NW-SE "Iberian" folds are due to bending along the strike-slip faults.
Collections