Publication:
Catalogación de los efectos geológicos y ambientales de los terremotos en España en la Escala ESI-2007 y su aplicación a los estudios paleosismológicos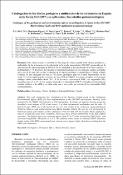 Files
Advisors (or tutors)
Editors
Publisher
Sociedad Geológica de España.
Abstract
Este trabajo resume la contribución del grupo de trabajo español sobre efectos geológicos y ambientales de los terremotos en la elaboración de la escala macrosísmica ESI-2007 promovida por la subcomisión de paleosismología de INQUA. En la actualidad se han clasificado 20 eventos sísmicos, 7 instrumentales y 13 históricos. La mayoría se encuentran incluidos en los catálogos sísmicos existentes salvo dos de los que sólo existen evidencias en el registro geológico o arqueológico (Tobarra y Baelo Claudia). Se han catalogado un total de 103 efectos geológicos para los eventos mencionados, de los cuales 32 se han implementado en la base de datos EEE de INQUA. Los datos recogidos en el presente catálogo cubren intensidades desde VI a X de la escala convencional MSK, con magnitudes (Ms) asociadas entre 4,3 y 6,7. En los eventos analizados las intensidades ESI-07 estimadas provisionalmente resultan similares a las MSK y se sitúan entre uno o dos grados por encima de las intensidades EMS correspondientes.
This work summarizes the contribution of the Spanish working group on the Earthquake Environmental Effects (EEE) for their implementation in the ESI-2007 macroseismic Intensity Scale promoted by the INQUA Subcomission on Paleoseismology. At present the Spanish working group has classified a total amount of 20 seismic events, 7 of them instrumental earthquakes and the other 13 historical ones. While two of the historical ones are only evidenced by geological, geomorphological (Tobarra, Albacete) and archaeological data (Baelo Claudia,, Cádiz), the rest are well documented in historical sources and existing seismic catalogues. From the bulk 103 site locality effects cataloged a total of 32 EEE files have been completed, which have been already implemented in the EEE INQUA data-base. The Spanish data cover intensity degrees from VI to X of the conventional MSK Scale, with associated magnitudes (Ms) from 4.3 to 6.7. The analysed events result in estimated ESI-07 intensities similar to that of the MSK conventional scale, but one or two degrees higher than those resulting from the EMS scale estimations.
Collections