Publication:
El espacio de libertad, seguridad y justicia consolidado por la Constitución Europea (The Space of Freedom, Security and Justice Consolidated by the European Constitution)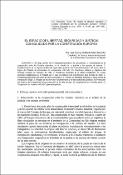 Advisors (or tutors)
Editors
Abstract
Tras el espacio de seguridad se oculta y articula la autoprotección que cada Estado miembro desea efectuar del resto de sus espacios: el económico, el financiero, el mercado de trabajo nacional, los sistemas de producción y las relaciones interiores y exteriores, entre otros. La dialéctica entre inmigración, delincuencia y terrorismo no es algo nuevo. El proceso de integración regional de la UE y la conformación de un espacio común, libre de fronteras interiores, ha sido acompañado de un reforzamiento en el control de sus extremos. Y precisamente en el marco comunitario, las migraciones fueron englobadas en el área de Justicia y Asuntos de Interior, el llamado Tercer Pilar, junto con el terrorismo y el tráfico de drogas. Esta vinculación entre migración y delito quedó plasmada también en el Acuerdo de Schengen, que puso todo el acento en la lucha contra la inmigración ilegal, las redes ilegales y el tráfico de personas. El Acta Única Europea, adoptada en 1986, trazó un punto de inflexión en esta cooperación intergubernamental. El art. 8A (art. 7A en el Tratado de Maastricht y art. 14 en el Tratado de Amsterdam), contempló la creación en la Comunidad Europea de un mercado único basado en las cuatro libertades fundamentales.
Collections