Publication:
De Moscovici a Jung: el arquetipo femenino y su iconografía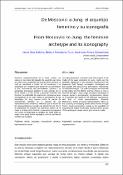 Advisors (or tutors)
Editors
Publisher
Universidad Autónoma de Barcelona, España
Abstract
Nuestras representaciones de la mujer hunden sus raíces en los mitos del pasado. De acuerdo con Jung, los mitos son la expresión del inconsciente colectivo, el cual se manifiesta a través de los arquetipos. Los arquetipos son imágenes que pasan de una generación a otra, instrumentos del pensamiento colectivo. Los arquetipos principales tratados en este artículo son el de la Madre y el del Ánima o principio femenino del hombre. La posibilidad de analizar las representaciones iconográficas de la mujer desde la perspectiva de los arquetipos de Jung supone incluir la noción de inconsciente colectivo en el análisis de sus representaciones modernas. Mientras que la teoría de las representaciones sociales de Moscovici nos ofrece la posibilidad de analizar las creencias acerca de la mujer a lo largo de la historia, la perspectiva junguiana nos revela la posibilidad de analizar los mitos sobre la mujer como parte de los arquetipos con los que damos sentido a la realidad.
Our representations of women have their origins in the myths of the past. According to Jung, myths are the symbolic expression of the collective unconscious that expresses itself through archetypes. Archetypes are thus images that pass across generations: instruments of collective thought. The main archetypes we deal with in this article are the Mother and the Anima, or men´s feminine principle. Using Jung's concept of archetype to analyse women´s iconographic representations allows us to combine the notion of the collective unconscious with that of social representations. Whereas Moscovici´s theory of social representations offers us the possibility of analysing beliefs about women through history, Jung's perspective reveals us the possibility of analysing the myths constructed around women as part of the archetypes people use to give sense to reality.
Collections