Publication:
Cryosphere-atmosphere interaction related to variability and change of northern hemisphere annular mode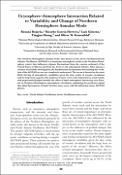 Advisors (or tutors)
Editors
Abstract
The Northern Hemisphere annular mode, also known as the Arctic Oscillation/North Atlantic Oscillation (AO/NAO) is a dominant atmospheric mode in the Northern Hemisphere winter that influences climate fluctuations from the eastern seaboard of the United States to Siberia and from the Arctic to the subtropical Atlantic. After almost a century of scientific investigation, the fundamental mechanisms determining the evolution of the AO/NAO are not yet completely understood. The ocean is favored as the most likely forcing of atmospheric variability, given the time scales of oceanic circulation and its large heat capacity. Our analyses of snow cover, soil temperatures, zonal winds, and geopotential heights identify the effect of land–atmosphere interaction over Eurasia on Northern Hemisphere atmospheric circulation, explaining the predictive signal that links fluctuations of April–October snow cover with the following winter AO/NAO phases.
Description
© 2008 New York Academy of Sciences. European-Meteorology-Society Annual Meeting / European Conference on Applications of Meteorology (7th/8th. 2007. El Escorial/Spain). This work was mainly supported by the European Union Framework 6 program under contract 003903-GOCE (DYNAMITE). Early work supported by the North Atlantic Treaty Organization fellowship was carried out at Universidad Complutense de Madrid, Spain, during the postdoctoral stage of one of the authors. The authors would like to thank the anonymous reviewer for improving the manuscript.
Collections