Publication:
Una visión psicoanalítica en la construcción psíquica de la mujer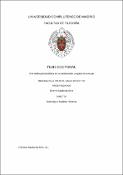 Files
Authors
Advisors (or tutors)
Editors
Publisher
Universidad Complutense de Madrid
Abstract
Este trabajo de investigación, aborda una problemática de la mujer, que sufre en su decisión de elegir su pareja matrimonial, con un nivel económico muy bajo, en que su determinación inconscientemente, permanecen el dolor físico y psicológico. La herramienta utilizada fue un trabajo de escucha psicoterápica, con base psicoanalítica, de una atención al paciente, que voluntariamente se dispuso a hacer una psicoterapia de base psicoanalítica, para una nueva construcción de pensamiento femenino. Una muestra de mujeres enviadas por Juzgados, Comisarías y algunas pacientes que voluntariamente, se dispusieron a participar de esta descubierta inconsciente, de lo que sea ser mujer, en su totalidad y su propio descubrimiento. El acompañamiento psicoterápico, tuvo como base la teoría psicoanalítica de Sigmund Freud, contribuciones de teorías psicoanalíticas como de la psicoanalista analizadora de Freud, Helene Deutsch, que hace referencia a la feminidad, para su reconocimiento, mencionando el fenómeno de la transferencia en ese trabajo, y de algunas personalidades más comunes vistas en este trabajo, ante las innúmeras personalidades que existen, destacando las más comunes y las principales...
This investigation work faces a problem of women suffering from the marriage choice with a very low economic level. That your choice unconsciously remains in physical and psychological pain. The ultilized tool was a psycho-psychological based psycho-psychology based work on the patient who voluntarily intended to make a psychoanalytic basis psychotherapy for a new construction of feminine perspective; a sample of women submitted by judges, police station and some women who voluntarily disposed to participate in this unconscious discovery of what it is to be a woman in its entirety and its own discovery. Psychotherapy accompanying based on psychoanalytic theory of sigmund freud, contributions of psychoanalytic theories as an analyzing psychoanalyst of freud and Helene deutsch who referenced feminity for recognition as a woman. Reference to the phenomenon of the transfer in this work and to some personalities more common, viewed in this work. Before immerse personalities that exist highlighting the most common and the main. What transpases that investigation work is the form of the personality of those women deformed by a wrong perception of love. The field of investigation maintains a dissertation of the listening and transformation of the affection seen by another vies. The report of these women shows a pain that needs to be listened, understood and elaborated by themselves...
Description
Tesis inédita de la Universidad Complutense de Madrid, Facultad de Filosofía, Departamento de Filosofía y Sociedad (Teoría del Conocimiento e Historia del Pensamiento), leída el 25/02/2021
Collections