Publication:
Diferencias en el pronóstico y mortalidad en los pacientes con EPOC según el fenotipo y las comorbilidades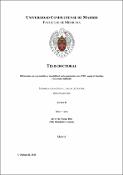 Files
Authors
Advisors (or tutors)
Editors
Publisher
Universidad Complutense de Madrid
Abstract
La enfermedad pulmonar obstructiva crónica (EPOC) es una enfermedad frecuente, que tiene importantes implicaciones sobre la sintomatología, calidad de vida y morbimortalidad de los pacientes que la padecen. Se define como una obstrucción crónica al flujo aéreo no completamente reversible en pacientes con síntomas respiratorios, frecuentemente causada por el humo del tabaco. La EPOC suele aparecer junto con otras enfermedades denominadas comorbilidades. Esta asociación puede deberse a diferentes mecanismos: por compartir factores de riesgo común, por ser una complicación de la misma enfermedad, por una enfermedad coincidente o por una enfermedad intercurrente. La presencia de estas comorbilidades en los pacientes con EPOC a menudo empobrece el pronóstico de ambas condiciones, tanto de la EPOC como de las comorbilidades, por lo que es necesario un manejo conjunto de estas patologías...
Chronic obstructive pulmonary disease (COPD) is a common disease that has important implications for the symptoms, quality of life and morbidity and mortality of patients who suffer from it. It consists of a not completely reversible chronic airflow obstructionin patients with respiratory symptoms, frequently caused by tobacco. COPD is a disease that usually occurs together with other conditions, called comorbidities. This association may be due to different mechanisms: due to sharing common risk factors, due to being a complication of the same disease, due to a coincident disease or due to an intercurrent disease. The presence of these comorbidities in COPD patients often impoverishes the prognosis of both conditions, both COPD and comorbidities, which is why a comprehensive management of these pathologies is necessary...
Description
Tesis inédita de la Universidad Complutense de Madrid, Facultad de Medicina, leída el 11-06-2021
Collections