Publication:
Aggression's typologies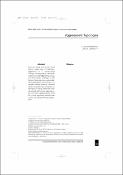 Advisors (or tutors)
Editors
Abstract
Far from being a term associated with a single type of behavior, aggression is a multifaceted concept, encompassing a multitude of behaviors with different functions and antecedents. Although not all forms of aggression are contemplated in this paper, our purpose is to provide a short summary of much of the research that attempts to distinguish among different kinds of animal and human aggression. We conclude suggesting the need for a new empirical model to be used as a typology of human aggression.[RÉSUMÉ]Loin d'être associée à un type unique de comportement, l'agression correspond davantage à une multitude de comportements avec différentes fonctions et différents antécédents et doit donc être appréhendée comme un concept à facettes multiples. Bien que toutes les formes d'agression ne soient pas envisagées dans cet article , notre propos est d'offrir une brève synthèse permettant de distinguer différents types d'agression animale et humaine. Nous concluons sur l'utilité d'un nouveau modèle empirique permettant une typologie de l'agression humaine.
Collections