Publication:
Epsilon contaminated priors in testing point null hypothesis: a procedure to determine the prior probability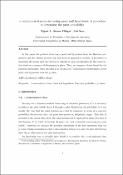 Advisors (or tutors)
Editors
Abstract
In this paper the problem of testing a point null hypothesis from the Bayesian perspective and the relation between this and the classical approach is studied. A procedure to determine the mixed prior distribution is introduced and a justification for this construction based on a measure of discrepancy is given. Then, we compare a lower bound for the posterior probability, when the prior is in the class of -contaminated distributions, of the point null hypothesis with the p-value.
Collections