Publication:
Una traducción inédita del "Ibam forte via Sacra..." en el s. XVIII: Vicente Alcoverro, traductor de Horacio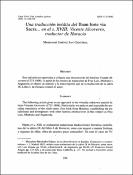 Advisors (or tutors)
Editors
Publisher
Universidad Complutense de Madrid
Abstract
Este artículo nos aproxima a la figura casi desconocida del latinista Vicente Alcoverro (1733-1808). A partir de los modos de traducción de Fray Luis, Medrano y Argensola se ofrece un análisis y la transcripción que de la traducción de la sátira IX, Libro 1, de Horacio realizó el autor.
The following article gives us an approach to the virtually unknown spanish latinist Vicente Alcoverro (1733-1808). Particularly we analyse and transcribe his peculiar translation of the ninth satire, first book from Horatius, establishing the parallelisms and divergences with other famous predecessors in this subject as Fray Luis, Medrano and Argensola.
Collections