Publication:
Mixing and m(q) dependence of axial vector mesons in the Coulomb gauge QCD model.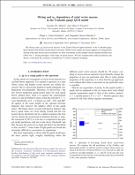 Advisors (or tutors)
Editors
Abstract
We discuss pure q (q) over bar axial-vector mesons in the Tamm-Dancoff approximation of the Coulomb-gauge QCD model from North Carolina State University. While recent studies have put emphasis in configuration mixing with open meson-meson channels, we here concentrate on the simpler closed-channel problem and follow the 1(+) mixing through a wide range of quark masses. We also examine their radial excitations and discuss with them the concept of insensitivity to chiral symmetry breaking.
Description
© 2019 Amer Physical Soc. L. M. A. and A. G. F. thank the Departamento de Fisica Teorica of the Universidad Complutense in Madrid for kind hospitality while part of this work was completed. Work supported by Brazilian funding agencies CNPq (Contracts No. 308088/2017-4 and No. 400546/2016-7) and FAPESB (Contract No. INT0007/2016). Additionally, MINECO: FPA2016-75654-C2-1-P (Spain); Universidad Complutense de Madrid under research group 910309 and the Institute of Particle and Cosmos Physics (IPARCOS); and the EU's Horizon 2020 programme, Grant No. 824093.
Collections