Publication:
Victorio Macho y Leandro de la Vega, el testimonio de una amistad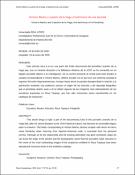 Authors
Advisors (or tutors)
Editors
Publisher
Biblioteca Histórica U.C.M.
Abstract
Este artículo saca a la luz una parte del fondo documental del periodista Leandro de la Vega que, tras su reciente donación a la Biblioteca Histórica de la UCM, se ha convertido en un legado accesible abierto a la investigación. De su archivo personal se extrae para este estudio la carpeta correspondiente a Victorio Macho, célebre escultor con el que tuvo una estrecha amistad al regresar del exilio hispanoamericano. Aunque hasta ahora ha pasado desapercibida la relación y la admiración existente, hoy podemos conocer el origen de los artículos y del reportaje fotográfico que el periodista realizó, pues a él se deben algunas de las imágenes más sobresalientes de las esculturas expuestas en Roca Tarpeya, que han sido numerosas veces reproducidas en los catálogos de exposición.
This article brings to light a part of the documentary fund of the journalist Leandro de la Vega that, after his recent donation to the UCM Historical Library, has become an accessible legacy open to research. The folder corresponding to Victorio Macho, famous sculptor with whom he had a close friendship when returning from Spanish-American exile, is extracted from his personal archive. Although so far the relationship and the existing admiration has gone unnoticed, today we can know the origin of the articles and the photographic report that the journalist made, because to him some of the most outstanding images of the sculptures exhibited in Roca Tarpeya have been reproduced numerous times in the exhibition catalogs.
Collections