Publication:
Diez cartas inéditas de María Zambrano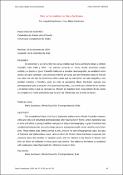 Authors
Advisors (or tutors)
Editors
Publisher
Biblioteca Histórica U.C.M.
Abstract
Se presentan y se transcriben las cartas inéditas que María Zambrano dirigió a Alfredo Castellón entre 1956 y 1962. Tras haberse conocido en Roma, donde Zambrano estaba exiliada y a donde un joven Castellón había ido a estudiar cinematografía, se estableció entre ambos una gran amistad y una profunda sintonía personal, que permanecería hasta el final de sus vidas. De ello dan fiel testimonio estas cartas que no sólo tienen un valor biográfico, sino también histórico y filosófico, pues en ellas la pensadora María Zambrano expresa sus preocupaciones por la situación de la juventud española, y su interés por el tema de los sueños y el tiempo sobre el que se centraba su reflexión en aquellos años. Esta edición de las cartas se completa con notas explicativas que aclaran las referencias que en ellas se hacen.
The unpublished letters that María Zambrano addressed to Alfredo Castellón between 1956 and 1962 are presented and transcribed. After having met in Rome, where Zambrano was in exile and where a young Castellón had gone to study cinematography, a great friendship was established between the two and a deep personal tuning that would remain until the end of their lives. These letters bear faithful witness to this, and are not only of biographical value, but also of historical and philosophical value, since in them the thinker María Zambrano expresses her concerns about the situation of Spanish youth, and her interest in the theme of dreams and time, on which her reflection in those years was centred. This edition of the letters is completed with explanatory notes that clarify the references made in them.
Collections