Publication:
Global parameterization of pi pi scattering up to 2 GeV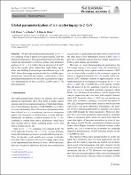 Advisors (or tutors)
Editors
Abstract
We provide global parameterizations of pi pi -> pi pi scattering S0 and P partial waves up to roughly 2 GeV for phenomenological use. These parameterizations describe the output and uncertainties of previous partial-wave dispersive analyses of pi pi -> pi pi, both in the real axis up to 1.12 GeV and in the complex plane within their applicability region, while also fulfilling forward dispersion relations up to 1.43 GeV. Above that energy we just describe the available experimental data. Moreover, the analytic continuations of these global parameterizations also describe accurately the dispersive determinations of the sigma/f(0)(500), f(0)(980) and rho(770) pole parameters.
Description
© The Author(s) 2019. We thank prof. W. Ochs for his comments and for providing us with the data of his updated (-+-) solution. JRP and AR are supported by the Spanish project FPA2016-75654-C2-2-P. This project has received funding from the European Union's Horizon 2020 research and innovation program under Grant agreement No.824093. AR would also like to acknowledge the financial support of the Universidad Complutense de Madrid through a predoctoral scholarship. JRE is supported by the Swiss National Science Foundation, project No. PZ00P2_174228.
Collections