Publication:
Theory of the Rarita-Schwinger field without superluminality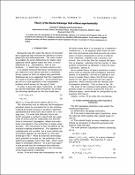 Authors
Advisors (or tutors)
Editors
Publisher
American Physical Society
Abstract
It is shown that the noncausality of the Rarita-Schwinger equation in an external electromagnetic field can be avoided by the substitution of a subsidiary constraint by a subsidiary differential equation. As the number of degrees of freedom increases, the theory represents two kinds of articles with spin l/2 and spin 3/2. Some consequences are studied.
Description
© 1980 The American Physical Society. We are very indebted to Dr. M. Ramón, Dr. M.A. Rodríguez, and Dr. J. Usón for discussions. This paper was partly supported by Junta de Energía Nuclear, Madrid.
Citation
1.- A. S. Wightman, Lecture Notes in Physics, No. 73(Springer, Berlin, 1978). 2.- W. Rarita and J. Schwinger, Phys. Hev. 60, 61 (1941). 3.- M. Fierz and W. Pauli, Proc. R. Soc. London A173, 211(1939). 4.- G. Velo and D. Zwanziger, Phys. Rev. 186, 1337 (1967). 5.- A. F. Rañada and G. Sierra, Phys. Rev. 0 22, 385 (1980). 6.- P. A. Moldauer and K. M. Case, Phys. Rev. 102, 279 (1956).
Collections