Publication:
El Albense superior y el Cenomanense con Foraminíferos bentónicos del Sur de la Cordillera Ibérica (provincias de Cuenca y de Valencia)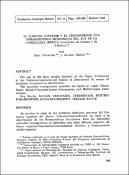 Advisors (or tutors)
Editors
Publisher
Servicio de Publicaciones de la Universidad Complutense de Madrid
Abstract
Se precisa la edad de los primeros depósitos marinos del Cretácico superior del Sector Valencia-Cuenca-Teruel, en base a la distribución de los Foraminíferos bentónicos. Para los diferentes episodios transgresivos se identifica una edad Albense superior, Albense superior-Vraconiense-Cenomanense inferior, y Cenomanense medio-superior.
The age of the first marine deposits of the Upper Cretaceous in the Valencia-Cuenca-Teruel Region is determined by means of benthonic foraminifera distribution. The succesive transgressive episodes are dated as Upper Albian, Upper Albian-Vraconian-Lower Cenomanian and Middle-Upper Cenomaman.
Collections