Publication:
Datos cronoestratigráficos del Triásico superior de la región Ayllon-Atienza. (Provincias de Segovia, Soria y Guadalajara)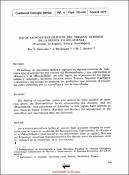 Authors
Advisors (or tutors)
Editors
Publisher
Servicio de Publicaciones de la Universidad Complutense de Madrid
Abstract
El hallazgo de microflora (polen y esporas) en algunas muestras de materiales que se encuentran por encima del Buntsandstein, y que representan al «Keuper» y al «Muschelkalk» (en esta región no se encuentran las típicas calizas y dolomías), permiten datarlos como Triásico Superior (Carniense y Noriense). Así mismo se plantean los problemas que presenta el encajar los datos obtenidos por la microflora y por la macrofauna.
The finding of microflora (polen and spores) in some sainples of materials aboye the Buntsandstein facies, representing the «Keuper» and the «Muschelkalk» (not calcareous or dolomitic in this region, have allowed to date them as Upper Triassic (Karnian and Norian) the adjustement of the microflora and macrofauna data are discussed.
Collections