Publication:
Interfaz software/hardware entre Raspberry Pi y FPGA Spartan-6 y su aplicación a simulación dirigida por eventos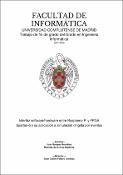 Advisors (or tutors)
Editors
Abstract
Hoy día vivimos en la sociedad de la tecnología, en la que la mayoría de las cosas cuentan con uno o varios procesadores y es necesario realizar cómputos para hacer más agradable la vida del ser humano. Esta necesidad nos ha brindado la posibilidad de asistir en la historia a un acontecimiento sin precedentes, en el que la cantidad de transistores era duplicada cada dos años, y con ello, mejorada la velocidad de cómputo (Moore, 1965). Tal acontecimiento nos ha llevado a la situación actual, en la que encontramos placas con la capacidad de los computadores de hace años, consumiendo muchísima menos energía y ocupando muchísimo menos espacio, aunque tales prestaciones quedan un poco escasas para lo que se requiere hoy día. De ahí surge la idea de comunicar placas que se complementan en aspectos en las que ambas se ven limitadas. En nuestro proyecto desarrollaremos una interfaz s oftware/hardware para facilitar la comunicación entre dos placas con distintas prestaciones, a saber, una Raspberry Pi modelo A 2012 y una FPGA Spartan XSA3S1000 con placa extendida XStend Board V3.0. Dicha comunicación se basará en el envío y recepción de bits en serie, y será la Raspberry Pi quien marque las fases de la comunicación. El proyecto se divide en dos partes: La primera parte consiste en el desarrollo de un módulo para el kernel de Linux, que se encarga de gestionar las entradas y salidas de datos de la Raspberry Pi cuando se realizan las pertinentes llamadas de write o read. Mediante el control de los GPIO y la gestión de las distintas señales, se realiza la primera fase de la comunicación. La segunda parte consiste en el desarrollo de un diseño en VHDL para la FPGA, mediante el cual se pueda gestionar la recepción, cómputo y posterior envío de bits, de forma que la Raspberry Pi pueda disponer de los datos una vez hayan sido calculados. Ambas partes han sido desarrolladas bajo licencias libres (GPL) para que estén disponibles a cualquier persona interesada en el desarrollo y que deseen su reutilización.
Nowadays we live in society of technology , where most things have one or more processors and is necessary computations to make human life more enjoyable. This need has given us the opportunity to attend an unprecedented event in history, in which the number of transistors was doubling every 2 years, and thus improved computing speed (Moore, 1965). Such an event has led us to the current situation, in which we find boards with a computing power as high as the ones of first years, consuming far less power and occupying much less space. Although such benefits are a little short of what is required in our days. Hence arises the idea of c ommunicating boards that complement in areas where both are limited. In our project we will develop a software/hardware interface to facilitate communication between two boards with different features, namely a Raspberry Pi model A 2011 and a Spartan FPGA XSA3S1000 board with extended XStend Board V3.0. This communication is based on sending and receiving serial bit, and the Raspberry Pi will set the phases of communication. The project is divided into two parts. The first part is the development of a module for the Linux kernel, which manages the data inputs/outputs of the Raspberry Pi whenever write or read calls are made. By controlling the GPIO and management of the various signals, the first phase of the communication is done. The second part is the development of a program in VHDL for FPGA, by which to manage the reception, computer and then sending bits, so that the Raspberry Pi can have the data once they have been calculated. Both parts have been developed under free licenses (GPL). In this way we make it available to anyone who wants to reuse the project.
Description
Trabajo de Fin de Grado en Ingeniería Informática (Universidad Complutense, Facultad de Informática, curso 2015/2016)