Publication:
Herramienta de evaluación de calidad adaptativa a las normas de AENOR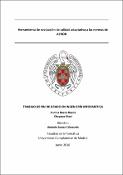 Authors
Advisors (or tutors)
Editors
Abstract
Actualmente en internet se puede encontrar información y materiales prácticamente de cualquier tema. Sin embargo los avances para clasificar y medir la calidad de los materiales han sido mínimos y dispersos. Cualquiera puede crear un material y publicarlo, pero nadie asegura ni garantiza que ese material será accesible o si sus contenidos serán adecuados para el estudio. Esta situación hace que, aunque se disponga de un número inabarcable de materiales, sea complicado recuperar aquellos con una calidad mínima. Este problema general se agudiza en dominios de formación, como el universitario, donde los profesores crean y actualizan continuamente sus materiales educativos digitales sin ninguna orientación sobre los requisitos mínimos para que sus materiales no tengan problemas técnicos – como portabilidad y durabilidad-, didácticos –como la coherencia entre objetivos y destinatarios, y formato y diseño adecuados al estudio- y, de accesibilidad –como garantizar la perceptibilidad del contenido audiovisual y textual-. En este contexto, se ha creado una norma UNE de calidad de los materiales educativos. Tomando como base dicha nota se ha desarrollado una herramienta web que implementa la norma y facilita la evaluación de la calidad de un material educativo digital. En el presente trabajo fin de grado se presenta la herramienta desarrollada, sus principales características y funcionalidades desarrolladas.
Currently in internet you can find information and materials practically about any topic. However advances to classify and measure the quality of the materials have been minimal and far between. Anyone can create a material and publish it, but nobody assures or warrants that such material will be accessible or if its contents will be suitable for study. This situation means that, even if you have an unmanageable number of materials, it is difficult to recover those with a minimum quality. This general problem is exacerbated training in domains such as the university, where teachers create and update their digital educational materials continuously without any guidance on the minimum requirements so that their materials do not have technical problems such as portability and durability, didactic, as consistency between objectives and targets, and format and design appropriate to studyand, like accessibility ensure conspicuity of audiovisual and textual content. In this context, is created a standard UNE of educational material's quality. Based on that note it has developed a tool web that implements the standard and facilitates the evaluation of the quality of educational digital material. In this final project the tool developed is presented, its main features and functionalities developed.
Description
Trabajo de Fin de Grado en Ingeniería Informática (Universidad Complutense, Facultad de Informática, curso 2015/2016)