Publication:
PLGA Nanoparticles for the Intraperitoneal Administration of CBD in the Treatment of Ovarian Cancer: In Vitro and In Ovo Assessment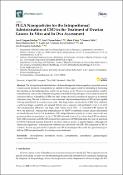 Advisors (or tutors)
Editors
Abstract
The intraperitoneal administration of chemotherapeutics has emerged as a potential route in ovarian cancer treatment. Nanoparticles as carriers for these agents could be interesting by increasing the retention of chemotherapeutics within the peritoneal cavity. Moreover, nanoparticles could be internalised by cancer cells and let the drug release near the biological target, which could increase the anticancer efficacy. Cannabidiol (CBD), the main nonpsychotropic cannabinoid, appears as a potential anticancer drug. The aim of this work was to develop polymer nanoparticles as CBD carriers capable of being internalised by ovarian cancer cells. The drug-loaded nanoparticles (CBD-NPs) exhibited a spherical shape, a particle size around 240 nm and a negative zeta potential (−16.6 ± 1.2 mV). The encapsulation efficiency was high, with values above 95%. A controlled CBD release for 96 h was achieved. Nanoparticle internalisation in SKOV 3 epithelial ovarian cancer cells mainly occurred between 2 and 4 h of incubation. CBD antiproliferative activity in ovarian cancer cells was preserved after encapsulation. In fact, CBD-NPs showed a lower IC50 values than CBD in solution. Both CBD in solution and CBD-NPs induced the expression of PARP, indicating the onset of apoptosis. In SKOV-3-derived tumours formed in the chick embryo model, a slightly higher—although not statistically significant tumour growth inhibition was observed with CBD-NPs compared to CBD in solution. To sum up, poly-lactic-co-glycolic acid (PLGA) nanoparticles could be a good strategy to deliver CBD intraperitoneally for ovarian cancer treatment.
Collections