Publication:
Procesos metamórficos e hidrotermales Variscos en rocas carbonáticas del Cámbrico inferior (Montes de Toledo, Zona Centroibérica, España)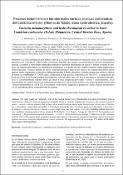 Advisors (or tutors)
Editors
Publisher
Sociedad Geológica de España.
Abstract
Las rocas carbonáticas del Cámbrico inferior de la Zona Centroibérica (Formación Calizas de Los Navalucillos) presentan en la localidad de Urda (Toledo) asociaciones minerales que pueden estar producidas por procesos metamórficos variscos. La textura y mineralogía observadas consisten en dominios siliciclásticos de cuarzo + sericita ± micrita en contacto con nódulos carbonáticos con bioclastos de arqueociatos. Los bordes de estos nódulos contienen biotita magnesiana ± clorita-clinocloro ± óxidos y sulfuros de hierro ± feldespato potásico. Fuera de los bordes y en la matriz siliciclástica suelen aparecer biotita magnesiana ± moscovita ± feldespato potásico ± clorita-clinocloro ± titanita ± plagioclasa cálcica y sulfuros de hierro. La modelización P-T-XCO2 indica condiciones de baja presión, temperaturas de 310-355 oC y composición del fluido de 0.05-0.55 XCO2 para producir las paragénesis minerales observadas. En base a estos datos se consideran dos hipótesis: 1) Un metamorfismo regional varisco que afectó a rocas compuestas por cuarzo + sericita + calcita/dolomita. 2) Un metamorfismo de contacto asociado al emplazamiento tardivarisco de un plutón granítico, que generó de forma puntual calor y fluidos hidrotermales de H2O ± CO2. Estos fluidos serían en parte magmáticos-graníticos (>H2O) y en parte metamórficos (>CO2) procedentes de los metasedimentos de contacto.
The early Cambrian carbonate rocks of the Central Iberian Zone (Navalucillos Limestone Formation) show in Urda location (Toledo) a mineral paragenesis probably linked to Variscan metamorphic processes. The textures consist in quartz + sericite ± micrite domains that include calcite nodules with archaeocyathan bioclasts and silicate rims of Mg-biotite ± clinochlore ± iron-oxides and sulfides ± K-feldspar. Outside the rims, the silicate phases are Mg-biotite ± muscovite ± K-feldspar ± chlorite-clinochlore ± titanite ± calcic-plagioclase, and iron sulfides. P-T-XCO2 modeling indicates low pressure conditions of metamorphism, low to moderate XCO2 fluid (≈ 0.1-0.5) and a T range of ≈ 300-355 ºC. Two hypothesis are considered: 1) Regional metamorphism of a quartz + sericite + calcite/dolomite assemblage. 2) Infiltration of the carbonate rocks by H2O ± CO2 external fluids, magmatic/metamorphic derived. This consists in hydrothermal inputs from a local source (granite intrusions) and from dehydration of contact sediments. The high variability of the isotopic δ18O values in the carbonates supports this hypothesis.
Collections