Publication:
Ciudadanía del bienestar durante la crisis en España: el caso de los hogares vulnerables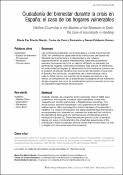 Advisors (or tutors)
Editors
Publisher
Centro de Investigaciones Sociológicas
Abstract
Las políticas de austeridad, como respuesta a la crisis económica de 2008, han debilitado la capacidad de las instituciones del Estado de bienestar para enfrentarse a la desigualdad y a la pobreza, especialmente en los países mediterráneos. Este artículo pretende examinar la experiencia cívica en relación al Estado de bienestar por parte de los hogares vulnerables en España. Tras analizar 24 entrevistas en profundidad de hogares en situaciones de dificultad en el contexto de la recesión, el artículo identifica tres marcos de interrelación cívica entre el Estado y los individuos: disciplinante, de la desconfianza y de la justicia. Estos marcos dan cuentan de los lugares semánticos y las formas de comprensión de las experiencias ciudadanas de los individuos de esos hogares, así como de los elementos que los conectan (o no) con los discursos hegemónicos de la recesión.
Austerity policies, as a response to the economic crisis of 2008, have undermined the capacity of welfare state institutions to deal with inequality and poverty, particularly in Mediterranean countries. This article aims to examine households' civic experience of the Spanish welfare regime. After analysing 24 in-depth interviews of households in hardship in a context of recession, the paper identifies three frameworks encompassing civic interrelations between the state and the individual: the disciplining framework (1), the framework of mistrust (2) and the framework of justice (3). These frameworks give accounts of semantic places and ways of understanding the citizenship experiences of the individuals in these households and the bonds that connect them (or not) to hegemonic discourses about the recession.
Collections