Publication:
Oxidative Stress and Vascular Damage in the Context of Obesity: The Hidden Guest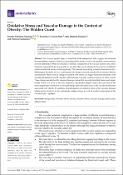 Advisors (or tutors)
Editors
Abstract
The vascular system plays a central role in the transport of cells, oxygen and nutrients between different regions of the body, depending on the needs, as well as of metabolic waste products for their elimination. While the structure of different components of the vascular system varies, these structures, especially those of main arteries and arterioles, can be affected by the presence of different cardiovascular risk factors, including obesity. This vascular remodeling is mainly characterized by a thickening of the media layer as a consequence of changes in smooth muscle cells or excessive fibrosis accumulation. These vascular changes associated with obesity can trigger functional alterations, with endothelial dysfunction and vascular stiffness being especially common features of obese vessels. These changes can also lead to impaired tissue perfusion that may affect multiple tissues and organs. In this review, we focus on the role played by perivascular adipose tissue, the activation of the renin-angiotensin-aldosterone system and endoplasmic reticulum stress in the vascular dysfunction associated with obesity. In addition, the participation of oxidative stress in this vascular damage, which can be produced in the perivascular adipose tissue as well as in other components of the vascular wall, is updated.
Collections