Publication:
El papel de las mujeres en los acuerdos de paz en Colombia: la agenda internacional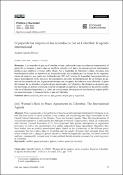 Authors
Advisors (or tutors)
Editors
Publisher
Universidad Complutense de Madrid
Abstract
Los acuerdos de paz en Colombia se han conformado como un referente internacional al poner fin a cincuenta y nueve años de conflicto armado en el país e incorporar nuevos instrumentos jurídicos que establece el marco sobre Mujer, Paz y Seguridad de Naciones Unidas. Así pues, esta transformación sobre las narrativas de la securitización está mediada por los relatos de las organizaciones de mujeres, que, junto con la Resolución 1325 del Consejo de Seguridad, han promovido su mayor participación en los procesos de negociación, así como la incorporación de un enfoque de género en los acuerdos de paz, logrando así romper con un espacio inicialmente masculinizado. A partir del examen de los distintos acuerdos de paz acontecidos en Colombia y las dinámicas de género que los atraviesan, el artículo evidencia cómo se ha logrado un cambio en las narrativas de género establecido en el discurso hegemónico, y cómo, en consecuencia, las mujeres se convierten en sujetos políticos necesarios para la consecución de la paz en Colombia.
Peace agreements in Colombia have become an international benchmark by bringing to an end fifty-nine years of armed conflicts in the country and assimilating new legal instruments in the United Nations framework on the Women, Peace and Security agenda. Thus, this transformation of securitisation narratives is mediated by the dialogues of women's organisations, which, in conjunction with Security Council Resolution 1325, have promoted their greater participation in negotiation processes, as well as the incorporation of a gender approach to peace agreements. Therefore, they have broken into an initially masculinized space. Based on the examination of the different peace agreements that have taken place in Colombia and the gender dynamics that permeate them, this article evinces how a change in gender narratives, based on hegemonic speeches, has been achieved and how, consequently, women have become political female-subjects necessary for achieving peace in Colombia.
Collections