Publication:
Plasma Amino Acid Concentrations in Patients with Alcohol and/or Cocaine Use Disorders and Their Association with Psychiatric Comorbidity and Sex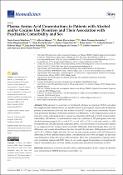 Advisors (or tutors)
Editors
Abstract
(1) Background: Co-occurrence of mental and substance use disorders (SUD) is prevalent, but complicates their clinical courses, and specific biomarkers are required. Amino acids are altered in primary mental disorders; however, little is known about SUD and psychiatric comorbidity. Because most psychiatric disorders and biomarkers show sex differences, we investigated amino acids in men and women with alcohol and/or cocaine use disorders (AUD and/or CUD) and psychiatric comorbidity. (2) Methods: A cross-sectional study was conducted in 295 participants, who were divided into four groups (AUD, n = 60; CUD, n = 41; AUD + CUD, n = 64; and control, n = 130). Participants were clinically assessed, and plasma amino acid concentrations were analyzed in relation to sex, diagnosis of SUD and psychiatric comorbidity (3) Results: In the total sample, there were sex differences, and women showed lower Iso, Leu, Gln and Glu than men. While patients with CUD and AUD + CUD had higher Glu, Gly, Orn and Ser than controls, patients with AUD showed no differences. In SUD, patients with psychiatric comorbidity had lower Orn and higher Ala than non-comorbid patients in the AUD group. (4) Conclusions: There was a dysregulation of plasma amino acids in abstinent patients with SUD. However, our results suggest the importance of considering the clinical characteristics and sex in the validity of amino acids as potential biomarkers for SUD.
Collections