Publication:
Extension structures as kinematic indicators in monoclinic transpression and transtension zones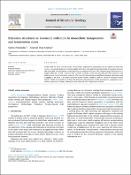 Advisors (or tutors)
Editors
Abstract
In this work we show how the model of monoclinic transpression/transtension can be applied to obtain the relation between the kinematic vorticity number of the flow, the angle between the strikes of extension fractures and shear zone, and the extension value normal to the extension fractures. This relation is graphically shown in a diagram that can be used to estimate the kinematic vorticity number provided that the other geometric and deformational parameters can be measured. The method is checked against published analogue experiments and is applied to the cases of the Rinconada fault system (Central California) and the Torcal de Antequera massif (Spain), where it is possible to evaluate the feasibility and robustness of this procedure by comparing its predictions against the vorticity values previously obtained with independent methods.
Collections