Publication:
Palaeogeographic significance of rugose corals: El Guadiato Area (Southwestern Spain) as a case study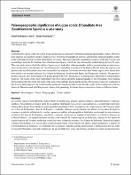 Advisors (or tutors)
Editors
Publisher
Universidad Complutense de Madrid
Abstract
Carboniferous rugose corals are useful for palaeoecological, palaeoenvironmental and palaeogeographic studies. However, most analyses are qualitative and/or comprise corals from long stratigraphical intervals, and detailed palaeogeographic studies in the Carboniferous from western Palaeotethys are scarce. This report presents a quantitative analysis of the late Visean coral assemblages from the El Guadiato Area (Southwestern Spain), which has been thoroughly studied during the last 30 years. This case study aims to check the utility of rugose corals in detailed palaeogeographic studies, reconstructing tectonic movements in the suture zone between the Ossa Morena and Centroiberian domains in the Iberian Massif. Sixty-one rugose coral species from the El Guadiato Area were included in the analyses. Moreover, two other late Visean rugose coral faunas have been added as an external reference: Los Santos de Maimona (Southwestern Spain) and Kingscourt (Ireland). The presence/absence datasets have been treated with paired group (UPGMA) Hierarchical Clustering and a Detrended Correspondence Analysis. The results of this study support previous observations about the palaeogeography of the El Guadiato Area, backing the hypothesis that the strike slip faults of the area produced large lateral displacements. The results of analyses conducted at this level of detail appear to be conditioned by palaeoenvironmental differences, but the results of the comparison with Los Santos de Maimona and with Kingscourt's faunas look promising for future larger comparisons between different basins.
Los corales rugosos del Carbonífero han probado su utilidad para estudios paleoecológicos, paleoambientales y paleogeográficos. Sin embargo, la mayor parte de los análisis empleando estos corales son cualitativos, o comprenden intervalos estratigráficos largos. Este trabajo presenta un análisis cuantitativo de las asociaciones de corales rugosos del Viseense tardío en el Área de El Guadiato (Sureste de España), estudiadas exhaustivamente durante los últimos treinta años. El objetivo es poner a prueba la utilidad de los corales rugosos en análisis paleogeográficos detallados, resolviendo los movimientos tectónicos del Área de El Guadiato, situada en la zona de sutura entre el dominio Centroibérico y el de Ossa Morena, en el Macizo Ibérico. Los análisis incluyen sesenta y una especies de corales rugosos de dicha área, además de dos faunas de corales rugosos del Viseense tardío que se utilizan como referencias externas: Los Santos de Maimona (Sureste de España) y Kingscourt (Irlanda). Los sets de datos de presencia/ausencia se han tratado con análisis clúster jerárquicos y análisis de correspondencia sin tendencia. Los resultados de este estudio coinciden con las observaciones y publicaciones previas sobre el Área de El Guadiato, apoyando la hipótesis de que las fallas tipo strike-slip del área produjeron grandes desplazamientos laterales. Los análisis a la escala y nivel de detalle de este trabajo parecen condicionados por las diferencias paleoambientales, pero los resultados de las comparaciones con las faunas de Los Santos de Maimona y Kingscourt parecen prometedores ante futuras comparaciones a mayor escala y entre diferentes cuencas.
Description
CRUE-CSIC (Acuerdos Transformativos 2022)
Collections