Publication:
Atlas de la flora alóctona de Madrid, II. Nymphaceae-Gramineae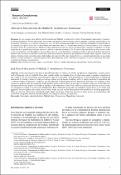 Advisors (or tutors)
Editors
Publisher
Universidad Complutense de Madrid
Abstract
En esta segunda parte del atlas de flora alóctona de Madrid, se incluyen los órdenes Nymphaeales, Magnoliales, Laurales y las Monocotiledóneas. Se han considerado los taxones introducidos fuera de terrenos urbanos, parques o jardines, naturalizados o no. Se analizan 101 taxones y se incluyen referencias a otros 39. De los taxones analizados 58 son alóctonos en Madrid (49 naturalizados, 8 sin constancia de que lo estén y uno sin localidades concretas conocidas) y 9 en localidades próximas (8 naturalizados y 1 sin constancia de estarlo). Otros 11 son alóctonos en Madrid y podrían naturalizarse, pero no hay constancia de ello; 5 aparecen en jardines y en 6 hay sospechas de su posible presencia por usarse en cultivos o siembras extensivas. En 18 taxones hay discrepancias entre autores sobre si son o no alóctonas; en este trabajo se ha considerado que no lo son. Finalmente se propone excluir 5 taxones de la flora alóctona de Madrid. Entre los taxones incluidos Arundo donax está considerada una de las más agresivas invasoras del mundo. Algunos taxones son antiguas introducciones con poblaciones estabilizadas o en regresión. Hay muy pocas referencias a cereales naturalizados, lo que puede deberse a su baja persistencia. Algunas especies son neocolonizadoras, como Limnobium laevigatum, la más recientemente detectada, o Cortaderia selloana, en expansión.
In this second part of the atlas of allochthonous flora of Madrid, the Orders Nymphaeales, Magnoliales, Laurales and as well as Monocots plant are included. It has been considered the taxa introduced out of urban areas, parks or gardens, naturalized or not. A total of 101 taxa are analyzed and references to other 39 are included. Of the analyzed taxa, 58 are allochthonous in Madrid (49 naturalized, 8 without evidence of being so and one without specific known localities) and 9 in nearby localities (8 naturalized and 1 without evidence of being so). Another 11 are allochthonous in Madrid and could be naturalized, but there is no evidence of this; 5 appear in gardens and 6 are suspected of their possible presence due to their use in crops or extensive sowing. In 18 taxa there are discrepancies between authors on whether or not they are allochthonous; in this work it has been considered that they are not. Finally, it is proposed to exclude 5 taxa from the allochthonous flora of Madrid. Among the taxa included, Arundo donax is one of the most aggressive invasive plant in the world, Arundo donax. Some taxa are ancient introductions with stabilized or declining populations. There are very few references to naturalized cereals, which may be due to their low persistence. Some species are neocolonizers, like Limnobium laevigatum, the most recently detected, or Cortaderia selloana, in expansion.
Collections