Publication:
Ulcerative colitis seems to imply oral microbiome dysbiosis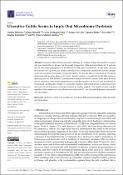 Advisors (or tutors)
Editors
Abstract
Ulcerative colitis (UC) is a recurrent pathology of complex etiology that has been occasionally associated with oral lesions, but the overall composition of the oral microbiome in UC patients and its role in the pathogenesis of the disease are still poorly understood. In this study, the oral microbiome of UC patients and healthy individuals was compared to ascertain the possible changes in the oral microbial communities associated with UC. For this, the salivary microbiota of 10 patients diagnosed with an active phase of UC and 11 healthy controls was analyzed by 16S rRNA gene sequencing (trial ref. ISRCTN39987). Metataxonomic analysis revealed a decrease in the alpha diversity and an imbalance in the relative proportions of some key members of the oral core microbiome in UC patients. Additionally, Staphylococcus members and four differential species or phylotypes were only present in UC patients, not being detected in healthy subjects. This study provides a global snapshot of the existence of oral dysbiosis associated with UC, and the possible presence of potential oral biomarkers.
Collections