Publication:
El Inicio de la Geología Militar en España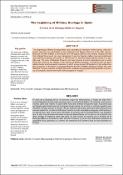 Authors
Advisors (or tutors)
Editors
Publisher
Instituto Geológico y Minero de España
Abstract
El inicio de la Geología Militar se remonta, según los historiadores, a finales del siglo XVIII, cuando Napoleón reclutó cuatro geólogos para su campaña de Egipto. Sin embargo, los primeros escritos sobre esta materia no aparecerán hasta bien entrado el siguiente siglo. A pesar de que en España esta disciplina nunca ha logrado desarrollarse, fue el militar e ilustrado español Juan Sánchez Cisneros el autor en el año 1819 de la primera obra que trata sobre esta materia de una manera específica. La obra de Sánchez Cisneros ha sido estudiada en algunas publicaciones y en alguna tesis, pero nunca como el iniciador de la ciencia de la Geología Militar; una disciplina que ha sido muy estudiada en todos los países desarrollados, en los que se ha producido una gran cantidad de literatura sobre este tema. En este trabajo se propone que el iniciador de la Geología Militar en España fue Juan Sánchez Cisneros y que su obra Elementos sublimes de geografía física aplicados a la ciencia de campaña fue la primera obra de esta disciplina en Europa.
The beginning of Military Geology dates back, according to historians of this science, when Napoleon recruited four geologists for his campaign from Egypt at the end of the 18th century. However, the first writings on this subject will not appear until the next century. Despite the fact that in Spain this science has never developed, it was the Spanish military man and enlightened Juan Sánchez Cisneros, the author in 1819 of the first work that deals with this matter in a specific way. The work of Sánchez Cisneros has been studied in some publications and in some thesis but never as the initiator of the science of Military Geology; a discipline that has been widely studied in all developed countries, in which a large amount of literature on this subject has been produced. In this lines it is proposed that the founder of Military Geology in Spain was Juan Sánchez Cisneros and that his book Elementos sublimes de geografía física aplicados a la ciencia de campaña was the first work of this discipline in Europe.
Collections