Publication:
Modulating the Differentiation of Kinetically Controlled Supramolecular Polymerizations through the Alkyl Bridge Length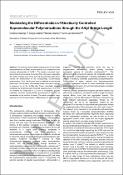 Advisors (or tutors)
Editors
Abstract
The synthesis and self-assembling features of N-annulated perylenebisimides (N-PBIs) 2-4 are reported and compared with the complex self-assembly of N-PBI 1. The studies presented herein demonstrate that increasing the length of the alkyl spacer separating the central aromatic core of the dye and the peripheral side chains cancels the differentiation on the corresponding supramolecular polymerization. Thus, only 2 is able form two different supramolecular polymorphs. The formation of kinetically trapped monomeric species is observed for all the N-PBIs 2-4. These metastable species, constituted by intramolecularly H-bonded pseudocycles of 7, 8, 9 or 10 members for compounds 1, 2, 3 and 4, respectively, provoke kinetically controlled supramolecular polymerizations that can be accelerated by the addition of seeds. The results presented herein shed light on the intricate process of differentiation in self-assembly.
Collections