Publication:
The Genomic Regions That Contain Ochratoxin A Biosynthetic Genes Widely Differ in Aspergillus Section Circumdati Species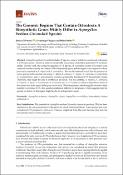 Advisors (or tutors)
Editors
Abstract
Aspergillus section Circumdati includes 27 species, some of which are considered ochratoxin A (OTA) producers. However, there is considerable controversy about their potential OTA synthesis ability. In this work, the complete genomes of 13 species of Aspergillus section Circumdati were analyzed in order to study the cluster of OTA biosynthetic genes and the region was compared to those previously reported in A. steynii and A. westerdijkiae. The results obtained reveal that the genomes of some species in this section, including A. affinis, A. cretensis, A. elegans, A. muricatus, A. pulvericola, A. roseoglobulosus, and A. subramanianii, contain a potentially functional OTA biosynthetic cluster. Therefore, they might be able to synthesize the toxin. On the contrary, A. melleus, A. ochraceus, A. ostianus, A. persii, A. sclerotiorum, A. sesamicola, and A. westlandensis contain a truncated version of the cluster that lacks many of the genes involved in OTA biosynthesis, which might be related to their inability to produce OTA. The gain/loss pattern is different in all species, which suggests that the genetic evolution of this region might be due to independent events.
Collections