Publication:
Integration of Transcriptomics and Metabolomics to Reveal the Molecular Mechanisms Underlying Rhodium Nanoparticles-Based Photodynamic Cancer Therapy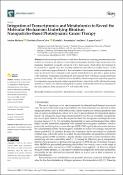 Advisors (or tutors)
Editors
Abstract
Rhodium nanoparticles have recently been described as promising photosensitizers due to their low toxicity in the absence of near-infrared irradiation, but their high cytotoxicity when irradiated. Irradiation is usually carried out with a laser source, which allows the treatment to be localized in a specific area, thus avoiding undesirable side effects on healthy tissues. In this study, a multi-omics approach based on the combination of microarray-based transcriptomics and mass spectrometry-based untargeted and targeted metabolomics has provided a global picture of the molecular mechanisms underlying the anti-tumoral effect of rhodium nanoparticle-based photodynamic therapy. The results have shown the ability of these nanoparticles to promote apoptosis by suppressing or promoting anti- and pro-apoptotic factors, respectively, and by affecting the energy machinery of tumor cells, mainly blocking the β-oxidation, which is reflected in the accumulation of free fatty acids and in the decrease in ATP, ADP and NAD+ levels.
Collections