Publication:
El efecto Merlí: Televisión y elección de grados universitarios relacionados con la filosofía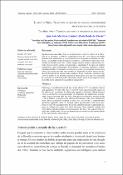 Advisors (or tutors)
Editors
Publisher
Universidad Autónoma de Barcelona
Abstract
Siguiendo una consolidada línea de investigaciones sobre los efectos de la televisión en las decisiones académicas, estudiamos el caso de la serie Merlí y su posible impacto en la adolescencia y su preferencia hacia los grados de filosofía en Catalunya. Las estadísticas oficiales parecen confirmar el aumento de matrículas y solicitudes en filosofía entre 2015 y 2016, aunque nuestros análisis exploratorios (estudio 1) no permiten atribuir con garantías la causalidad. A la espera de análisis cuantitativos más concluyentes, desarrollamos un abordaje cualitativo complementario (estudio 2), mediante cuestionarios on-line con preguntas abiertas, para conocer la percepción sobre esta cuestión del alumnado de nuevo ingreso en grados de filosofía de las universidades catalanas. Estos estudiantes consideran que Merlí no influyó en su decisión personal al matricularse, pero que sí ha mejorado la valoración social de la filosofía. Discutimos futuras líneas de investigación sobre el posible efecto indirecto de un ambiente más positivo
Following a consolidated research line on the effects of TV on academic choices and aspirations, we study the case of Merlí TV series and its possible impact onthe adolescents' preferences for philosophy degrees in Catalonia. Official statistics seem to confirm the increasing number of enrolments and applications in philo-sophy degrees between 2015 and 2016, although our exploratory analyses(study1)find it difficult to unequivocally attribute this change to the series. Waiting for more robust quantitative analyses on this issue, we provide a complementary qualitative approach (study 2), through online questionnaires with open questions, to know the perception that the newly admitted students in philosophy degrees in Catalan universities have about this issue. These students consider that Merlí did not influenced their personal decision, but that it has improved the social value of philosophy. We discuss future lines of research on the indirect effectsof this more positive environment.
Collections