Publication:
Ezio Levi, a Jewish romance philologist between Italy, Spain and the United States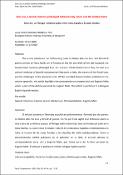 Authors
Advisors (or tutors)
Editors
Publisher
Universidad Complutense. Biblioteca Histórica
Abstract
The article introduces the forthcoming book La Nostra Vita con Ezio and Ricordi di guerra written by Flora Aghib Levi D'Ancona on the life and work of her late husband, the Jewish Italian romance philologist Ezio Levi: a Jewish intellectual in Fascist Italy, his role as a cultural mediator of Spanish contemporary literature to Italy, the trauma of the Racial laws, and the challenges of the American exile. Of the unedited documentation published in the volume appendix, the article highlights the correspondence between Levi and Eugenio Mele, which is part of the Archivo personal de Eugenio Mele.
El artículo presenta el libro que se publicará próximamente -formado por dos partes: La Nostra Vita con Ezio y Ricordi di guerra- escrito por Flora Aghib Levi D'Ancona sobre la vida y obra de su difunto esposo, el filólogo judío italiano Ezio Levi: un intelectual judío en la Italia fascista, su papel como mediador cultural de la literatura española contemporánea en Italia, el trauma de las Leyes Raciales y los desafíos del exilio estadounidense. Entre la documentación inédita publicada en el apéndice de la obra, el artículo destaca la correspondencia entre Levi y Eugenio Mele, que forma parte del Archivo personal de Eugenio Mele. El artículo se publica en versión bilingüe inglés-español.
Collections