Publication:
Geochemistry in earth sciences: a brief overview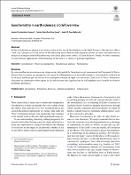 Advisors (or tutors)
Editors
Abstract
In this contribution we present a succinct overview of the role of Geochemistry in the Earth Sciences. Our idea is to offer a "bird's eye" perspective of the advent of Geochemistry and its historical development and the advances and milestones in analytical techniques that led Geochemistry to its actual place in the context of Earth Sciences. Finally, we offer a summary of some relevant applications of Geochemistry in the study of a variety of geological problems.
En esta contribución presentamos una visión sucinta del papel de la Geoquímica en el panorama de las Ciencias de la Tierra. Nuestra idea es mostrar una perspectiva del origen de la Geoquímica y su desarrollo histórico, así como de la evolución de las técnicas analíticas que han llevado a esta disciplina a ocupar un papel relevante en las Ciencias de la Tierra. Finalmente, ofrecemos un comentario sobre alguna de las aplicaciones más significativas de la Geoquímica en el estudio de diversos problemas geológicos.
Collections