Publication:
Is soft toric contact lenses fitting a feasible option to improve optical quality and visual performance in corneal ectasia?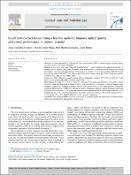 Advisors (or tutors)
Editors
Abstract
Objectives: To assess the feasibility of fitting soft toric contact lenses (STCL) in corneal ectasias and their impact on optical quality and visual performance. Methods: A total of 22 eyes were fitted with a molded STCL: 11 eyes/9 subjects with corneal ectasia and 11 healthy eyes/11 subjects. Wavefront aberrations were analyzed using a Hartmann-Shack aberrometer. Visual performance was measured under photopic (85 cd/m 2) and mesopic (≤3 cd/m 2) conditions. High-(96 %) and low- (10 %) contrast VA (HCVA and LCVA respectively) were assessed using the ETDRS charts and contrast sensitivity (CS) using the Pelli-Robson chart. Results: After STCL fitting in the ectatic corneas, oblique astigmatism increased 0.15±0.17 μm and 0.34 ± 0.36 μm for 3 mm- and mesopic pupil diameters, respectively. Mean defocus decreased 1.41 ± 0.36 μm and 2.17 ± 0.85 μm for the same pupil diameters. More positive values of vertical coma were found with a change of 0.05 ± 0.06 μm and 0.12 ± 0.10 μm for 3 mm and mesopic pupil diameters, respectively. Comparing changes between both groups, with a 3 mm pupil aperture, statistically significant differences (p < 0.05) were detected in oblique astigmatism, defocus, vertical secondary trefoil and horizontal secondary coma. In the group with corneal ectasia, photopic HCVA and LCVA improved 0.09 ± 0.11 logMAR and 0.12 ± 0.15 logMAR respectively. In mesopic conditions, HCVA, LCVA and CS improved 0.11 ± 0.12 logMAR, 0.18 ± 0.15 logMAR and 0.11 ± 0.07 log. units, respectively. Conclusions: The analyzed molded soft toric contact lens is a feasible option for good vision in corneal ectasia with moderate irregularity and negative vertical coma.
Description
Received 21 October 2020, Revised 17 February 2021, Accepted 7 March 2021, Available online 11 March 2021.
Collections