Publication:
A nearby transiting rocky exoplanet that is suitable for atmospheric investigation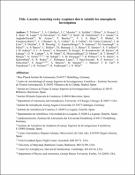 Advisors (or tutors)
Editors
Publisher
Amer Assoc Advancement Science
Abstract
Spectroscopy of transiting exoplanets can be used to investigate their atmospheric properties and habitability. Combining radial velocity (RV) and transit data provides additional information on exoplanet physical properties. We detect a transiting rocky planet with an orbital period of 1.467 days around the nearby red dwarf star Gliese 486. The planet Gliese 486 b is 2.81 Earth masses and 1.31 Earth radii, with uncertainties of 5%, as determined from RV data and photometric light curves. The host star is at a distance of ~8.1 parsecs, has a J-band magnitude of ~7.2, and is observable from both hemispheres of Earth. On the basis of these properties and the planet's short orbital period and high equilibrium temperature, we show that this terrestrial planet is suitable for emission and transit spectroscopy.
Description
© 2021 The Authors, some rights reserved; exclusive licensee American Association for the Advancement of Science. Artículo firmado por 69 autores. This work was based on observations made with the CARMENES spectrograph at the 3.5-m telescope of the Centro Astronómico Hispano-Alemán de Calar Alto (CAHA, Almería, Spain), funded by the German Max-Planck-Gesellschaft (MPG), the Spanish Consejo Superior de Investigaciones Científicas (CSIC), the European Regional Development Fund, and the CARMENES consortium members and stored at the CARMENES data archive at CAB (INTACSIC); the MAROON-X spectrograph, which was funded by the David and Lucile Packard Foundation, the Heising-Simons Foundation, the Gemini Observatory, and the University of Chicago (the MAROON-X team thanks the staff of the Gemini Observatory for their assistance with the commissioning and operation of the instrument); the LCOGT network; the MuSCAT2 instrument, developed by the Astrobiology Center, at Telescopio Carlos Sánchez operated on the island of Tenerife by the Instituto de Astrofísica de Canarias in the Spanish Observatorio del Teide; and data collected by the TESS mission. Funding: Funding was provided by Deutsche Forschungsgemeinschaft through research unit FOR2544 "Blue Planets around Red Stars" and priority program SPP1992 "Exploring the Diversity of Extrasolar Planets"; Agencia Estatal de Investigación of the Ministerio de Ciencia e Innovación and the European Regional Development Fund through projects PID2019-109522GB-C51/2/3/4, PGC2018-098153-B-C33, SEV-2017-0709, MDM-2017-0737, AYA2016-79425-C3-1/2/3-P, ESP2016-80435-C2-1-R, and SEV-2015-0548; Klaus Tschira Stiftung; European Union's Horizon 2020 through Marie Sklodowska Curie grant 713673; "la Caixa" through INPhINT grant LCF/BQ/IN17/1162033; NASA through grants NNX17AG24G, 80NSSC19K0533, 80NSSC19K1721, and 80NSSC18K158 and the NASA Science Mission Directorate; Japan Society for the Promotion of Science KAKENHI through grants JP17H04574, JP18H01265, and JP18H05439; and Japan Science and Technology Agency PRESTO through grant JPMJPR1775.
Collections