Publication:
On the effects of the Chern-Simons term in an Abelian gauged Skyrme model in d=4+1 dimensions.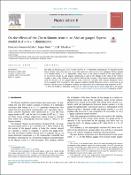 Advisors (or tutors)
Editors
Abstract
We study an Abelian gauged O (5) Skyrme model in 4 + 1 dimensions, featuring the F-4 Maxwell and the Chern-Simons terms. Our aim is to expose the mechanism, discovered in the analogous Abelian gauged O (3) Skyrme model in 2 + 1 dimensions, which leads to the unusual relation of the mass-energy E to the electric charge Q(e) and angular momentum J, and, to the change in the value of the "baryon number" q due to the influence of the Abelian field on the Skyrmion. Chern-Simons dynamics together with the dynamics of the gauged Skyrme scalar, allows for solutions with varying asymptotic values of the magnetic field, resulting in these unusual properties listed. Numerical work is carried out on an effective one dimensional subsystem resulting from imposition of an enhanced radial symmetry on R-4. (C) 2021 The Author(s). Published by Elsevier B.V.
Description
©2021 The Author(s). Published by Elsevier B.V. We would like to thank Valery Rubakov for important and very useful discussions. The work of E.R. is supported by the Center for Research and Development in Mathematics and Applications (CIDMA) through the Portuguese Foundation for Science and Technology (FCT -Fundacao para a Ciencia e a Tecnologia), references UIDB/04106/2020 and UIDP/04106/2020 and by national funds (OE), through FCT, I.P., in the scope of the framework contract foreseen in the numbers 4, 5 and 6 of the article 23,of the Decree-Law 57/2016, of August 29, changed by Law 57/2017, of July 19. We acknowledge support from the projects PTDC/FIS-OUT/28407/2017 and CERN/FIS-PAR/0027/2019. This work has further been supported by the European Union's Horizon 2020 research and innovation (RISE) programme H2020-MSCA-RISE-2017 Grant No. FunFiCO-777740. The authors would like to acknowledge networking support by the COST Action CA16104.
Collections